A Day in the Life of a Navigator » Advancing a LOP
Advanced lines of position can provide position information when making simultaneous observations of multiple objects is impossible. Between the morning and LAN Sun observations, our course was approximately 318° and speed 6 knots. Using these values, Chief Sheedy demonstrates advancing the morning Sun line to the time of LAN.
Ideally, we would like three LOPs from simultaneous observations to obtain a fix. However, sometimes making three simultaneous observations is impossible. For example, during daytime, we only have one object, the Sun, that is observed. We need to wait a few hours in between observations. We can, in fact, use observations, and their resulting LOPs, that are separated by a considerable amount of time. The procedure is called advancing a line of position.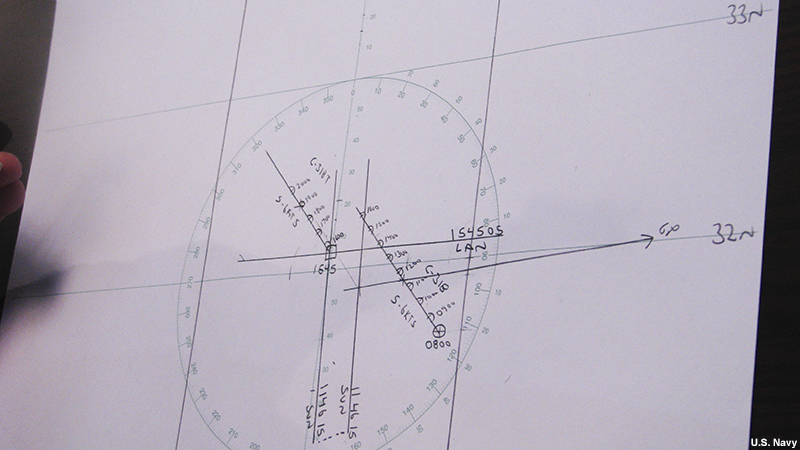 The details of advancing LOPs are beyond the scope of this module, but conceptually, to use an LOP from an earlier sight, we must take into account how our ship moved since the earlier sight was taken. Similar to getting our DR, we use the ship's ordered speed and course between the times of the LOPs to get the distance and direction the ship should have traveled. Next, we move the earlier LOP parallel to itself by this amount.
For our example, the morning Sun line was taken at 11:46, and the LAN sight was at 15:45. Our ordered direction and speed remained constant at 317.8 degrees and 5.7 knots. Between the two sights, we therefore should have gone 22.8 miles at a heading 317.8 degrees. On our chart, we advance our morning LOP this distance and direction, being sure to move the LOP parallel with itself.